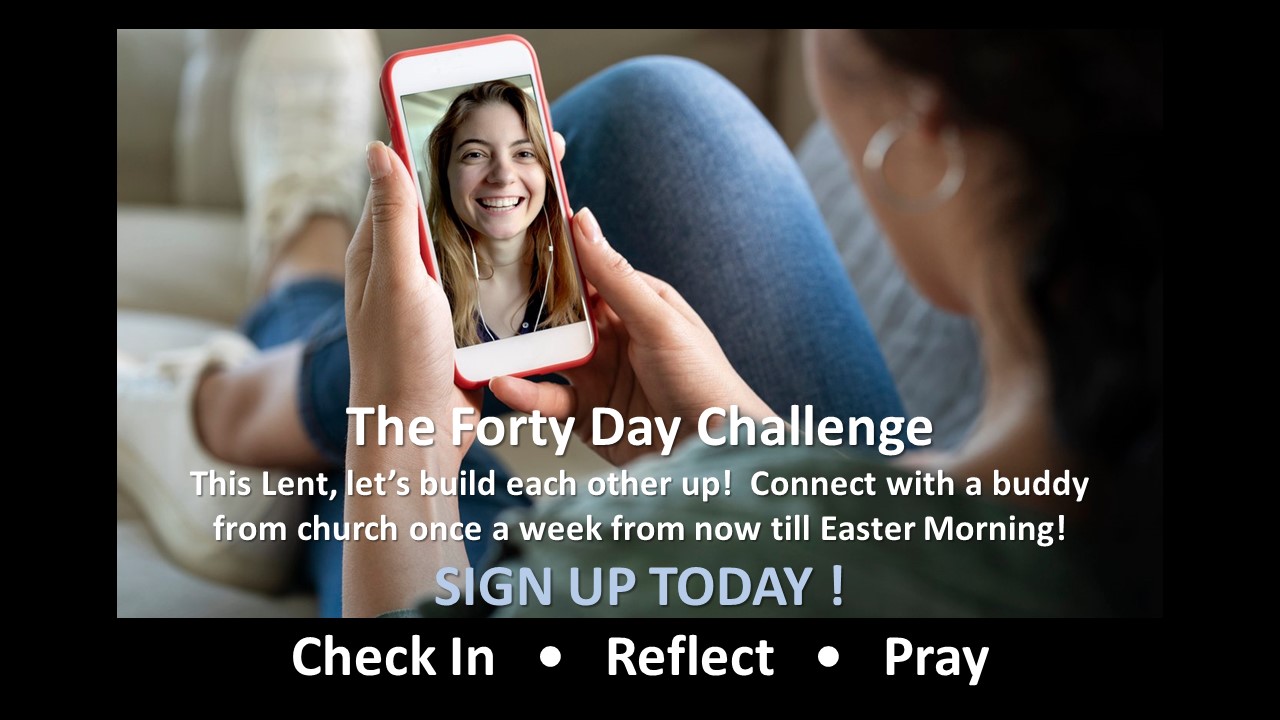 What if this Lent God used you to build up and encourage the body of Christ? Could you use a little of that yourself? Would you be willing to check in with someone for 10 minutes once a week for the six weeks of Lent – to give them a spiritual accountability buddy, and in the process give yourself one too ?!
WHAT IS IT ?
You and one or more buddies agree to a standing meeting time to check in with each other once a week for Lent. This can be a 10 minute weekly phone call or zoom, or perhaps taking a walk together – whatever you decide. Each week we will send you a short reflection you can use to encourage each other in your faith. Whether you already have someone in mind, or would like us to get you connected with a buddy, you can be part of this spiritual journey!
We ask you and your buddy to do three things in your weekly meeting:
CHECK IN – on how their week is going – the good, the bad, and the ugly !
REFLECT – Discuss one idea together about the spiritual life. Each week we will put resources here from the previous week's sermon or Lenten Devotional that you can use if you want. The main idea is just to spend sometime encouraging each other to follow Jesus.
PRAY – Pray for each other's week and any other concerns you may have.
That's it! It can be as quick or as indepth as you need it to be.
God can use you to bless another person on their spiritual journey. For six weeks you can serve as each other's spiritual accountability partner! Let's walk alongside each other to Easter morning!
WEEKLY RESOURCES WILL BE PROVIDED BELOW STARTING ASH WEDENSDAY!