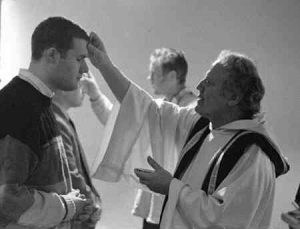 Ash Wednesday Service February 26, 2020
6:30 PM – Simple Bread and Soup Potluck Supper
7:30 PM – Worship Service
Leverington Presbyterian Church
6301 Ridge Avenue
---
We are about to enter the season that the ancient church called "Lent" – the forty days that lead up to Easter morning. In Old English, the word for Lent carried the idea that the season of Spring had come, that days were growing longer, that more light was coming into the world. It was a time of reflection, fasting, and preparation – culminating in the celebration of Easter morning. This year, to help you experience the Lenten Journey for yourself, our church community invites to join us for an Ash Wednesday service. Open to the public. Free Parking.
Join us February 26th at 6:30 PM for a simple dinner together, followed by our Ash Wednesday Service at 7:30 pm.
The Ancient Church launched the season of Lent with an Ash Wednesday service. With the imposition of Ashes on the forehead or hand, a person was reminded of both their mortality "From the dust you came and to the dust you will return", and marked with the sign of the cross – declaring publicly that they belonged to Jesus. We will do our own unique Ash Wednesday service this year that will include music, prayer, a teaching, and the imposition of ashes – for those who want it. This will be a small gathering and the service will be brief – about forty five minutes. We hope you can join us!
Background information and additional resources: The Journey of Lent
---
Ash Wednesday Church Services in Roxborough,
Ash Wednesday Services in Manayunk
Ash Wednesday Services in Lafayette Hill
Ash Wednesday services near me