Update 8/18/2021 – Mask Mandate
In keeping with the recent city mandate, we will ask all people to wear masks while in the building regardless of vaccination status. Masks are not required outside. Leaders may be unmasked while up front, but will remask once they return to their seats. High flow rate ventilation will remain in place.
Update 8/12/21
Our goal remains to be careful, reasonable, and data driven. As you can see below, our primary metric, Philadelphia's hospitalization rate due to COVID, remains relatively low. Therefore as of this date, our current policy remains in place: We ask all non-vaccinated people to wear masks and maintain social distancing in order to attend public worship. Vaccinated folks can choose whether or not to wear a mask. High flow rate ventilation will remain in place. Our Elders will continue to assess the risks and may adjust our policy in the future.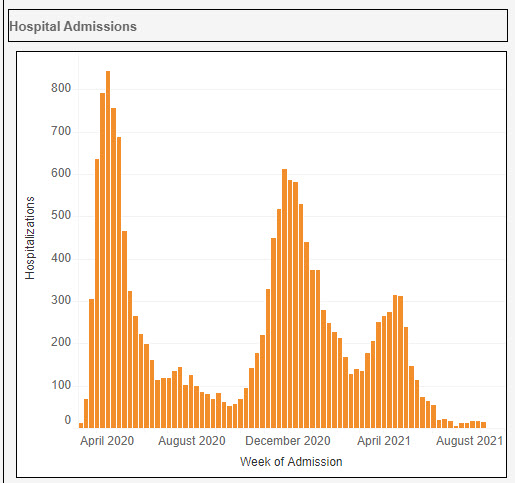 Update 6/1/2021 – Update on IN-PERSON worship
Starting June 13th, based on updated CDC guidelines, masks will be optional in worship for those who have been fully vaccinated (at least 2 weeks out from last shot). We will not ask your vaccination status, this will be an honor system. Seating restrictions will also be removed, but high flow rate ventilation will remain. If you still have questions about getting vaccinated, see our 2/7/21 post below. If you need help getting vaccinated, please contact us at Office@levpres.org and we will try to help you.
Update 5/15/2021 CDC Announcements
We are encouraged by recent CDC announcements. Any changes to our safety policy must be approved by our Session board, which meets next Tuesday. So, for this coming Sunday 5/16, we will be retaining our current COVID safety procedures which you can read here and watch here
Update 3/28/2021 We are now doing In-Person and On-line worship
Join us for in-person worship every Sunday at 10:30 am at 6301 Ridge Ave, Philadelphia Pa. For directions, click here
Update 3/12/2021 Guidelines for In-Person Worship
Update 2/7/2021 – Dr. Tim Culp Covid and Vaccines Explanation


Update 2/6/2021 Tentative Schedule for In-person Worship:
DATE
PUBLIC WORSHIP
CHILDREN'S PROGRAM
Sunday 3/21
X
Sunday 3/28
X
X
Sunday 4/4
EASTER
X
(Reservations Req'd)
X
(Reservations Req'd)
Update 1/22/2020 – Reopening Plans resume
Currently the data for our region is all beginning to head in the right direction and so we are resuming our plans to open up for physical worship in our sanctuary. While we don't have a fixed start date yet, it is likely to be sometime around the end of February. If you currently don't get our weekly emails, you can sign up by emailing Lora Please do continue to join us for on-line worship every Sunday here
Update 11/18/2020 – Reopening delayed
As you may be aware, our city has experienced a dramatic uptick in COVID cases in recent days as shown in the graph below. We are in a very different place than we were just a month ago. The city has just called for strict new guidelines for group gatherings that are to last through January 1st. Out of love for our neighbors and concern for our community, the session has decided to delay our reopening for physical in-person worship for the time being. We know this is extremely disappointing to many of you, and we are disappointed as well. We are hopeful this is the last leg of a difficult journey and that we will all be back together soon. The Lord has remained faithful to us in these difficult days and we are convinced he has brighter days in store for us ahead! It is especially in times like this that we need to be the church for each other. In the middle of our current sermon series, Paul says to us in 1 Thessalonians 4:13 "Encourage one another and build each other up, just as in fact you are doing." . Please consider how God might use you to encourage someone else in their faith this week. We will keep you posted as facts on the ground change.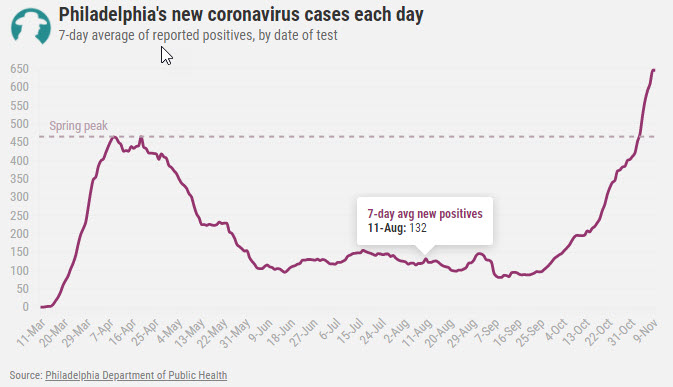 Update 11/10/2020
We are still on track to re-open for public worship on Sunday November 29th. There will be one service at 10:30 am. Please review our Church Opening procedures posted on 10/24/2020 below. If you still have any questions, please contact us at Office@levpres.org or 215-482-0293. Any changes to our plans such as shifting the reopening date or future closures will be posted here.
Update 10/24/2020
The following document is a ROUGH first draft of our opening policy and what you can expect if you join us for public worship. Session will be passing an official policy shortly. We continue to watch trends, but as of now are still planning to open for public worship on November 29th. Read the Re-opening Plan
Update 8/29/2020
Our Church Elders have decided to push back our first whole church physical worship service gathering until Thanksgiving Weekend – Sunday November 29th. As facts on the ground change we will continue to reacess our situation. Until then, we encourage you to worship with us on-line every Sunday at https://levpres.org/home-church/. Most weeks we include a companion video for young children. If you are not currently receiving Sunday morning emails from us, you can get on the list by contacting us at Office@levpres.org. These services usually include announcements on ways you can be a blessing to others. Please do reach out to and pray for other members of our church community. Even in these times, we can still be the church to each other and our neighbors!
Update 7/21/2020
We are currently planning to have our first in person worship service on our Fall Kick-Off Sunday – September 13th. Until then, we encourage you to worship with us on-line every Sunday at https://levpres.org/home-church/. Most weeks we include a companion video for young children.

You can track our current sermon series and watch previous worship services at https://levpres.org/the-parables-of-jesus-revealed-through-art/.
We invite you to join us for at home communion on Sunday August 2nd at 12 pm. You will receive a link to the Zoom meeting in your email by Saturday August 1st.
If you are interested in being part of a virtual or physical small group gathering, please contact Lora.
Update 7/6/2020
Update on COVID medicines and vaccines from the Francis Collins, the head of the NIH, Dr. Faucci's boss, and devoted Christian:
https://nymag.com/intelligencer/2020/07/anthony-faucis-boss-on-why-things-could-be-much-better-soon.html?fbclid=IwAR33czvGMkj3X84jj8zvUGDBcSCBUXm1bh8bBTqb8RiU0ga45VdT-Uxqybo
Update 6/21/2020
Watch the Sunday Worship Service
Perhaps our church's greatest and most fragile asset is our bonds of fellowship, that sense of being connected, belonging to our community. COVID has threatened that and we want to work together as a church family to rebuild our connections. You can help that effort by completing this survey.
We will hold a Congregational Meeting via Zoom on Sunday June 28th at 1 PM to vote on new church Officers. If you are a formal member of the church and have not received an invitation please send an email to office@levpres.org.
Update 5/23/2020
Our church Elders are evaluating our phased reopening based on the best possible information and government guidelines.

We will hold a Congregational Meeting via Zoom on Sunday June 28th at 1 PM to vote on new church Officers. If you are a member of the church you will receive an invitation both by snail mail and email.
You can get accurate medical information at www.cdc.org or by calling
THE GREATER PHILADELPHIA CORONAVIRUS HELP LINE: 1-800-722-7112
Dr. Birx gave a great summary of the whole coutry situation at the White House briefing on 5/22/2020. Go to time marker 2:39 at https://www.youtube.com/watch?v=tWOtrCeV0Lc
Update 5/17/2020
Watch the Sunday Worship Service Here.
Help feed our neighbors in need by stocking our local food pantry!
Update 5/09/2020
Watch the Sunday 5/10/20 Worship Service Here.

Given in the Governor's update this week that Philadelphia's stay at home order will remain in effect until June 4th, it is likely we will be only doing on-line services for the near future. We will update this page if any thing changes. Note there are a number of useful resources in older posts on this page. In addition to helping your neighbors, we encourage you to use this time to study God's word with us throughout the week. You can see our reading schedule here.
Update 5/04/2020
Sign up to help with the soup kitchen this coming Friday and Saturday.
Update 4/18/2020
Be part of our effort to bring gifts to Roxborough Hospitol Workers, Patients and First Responders
Participate in our 4/19 Worship Service
Update 4/9/2020
Listen to an audio podcast meditation on Good Friday Listen Here
Update 3/31/2020
Could you use a laugh and some good news ? Watch Here
Are you feeling really anxious ? Read Here

Philly resources during COVID19 (Thanks Simone Church!)
General info:https://www.phila.gov/programs/coronavirus-disease-2019-covid-19/
Food:https://generocity.org/philly/2020/03/21/resource-list-food-in-the-time-of-covid-19/
Resources for business:http://www.pidcphila.com/covid-19
https://www.bizjournals.com/philadelphia/news/2020/03/27/resources-for-philadelphia-area-businesses.html
Ways to help:https://thephiladelphiacitizen.org/ways-to-help-during-coronavirus/
School District of Philadelphia:https://www.philasd.org/coronavirus/
Update 3/29/2020
Update 3/24/2020
Watch Sunday's sermon
If you have any N95 facemasks, we have medical people in our congregation from Temple, Einstein and Lankenau who are trying to get masks directly to doctors and nurses caring for Coronavirus patients. If you have any to donate, please contact us at Office@levpres.org
Sign up to help with Soup Kitchen this coming Friday and Saturday
Corona Simulator Article mentioned in the service – see the active graphs at the bottom
Examples of people affirming life in the midst of the Pandemic
Update 3/16/2020
Church will only be On-line this coming Sunday, March 22nd.
Thanks to everyone who joined for our online service last Sunday! It has over 400 views so far. You can also listen to the audio podcast version of the entire service Here. You can post prayer requests on our Facebook page, or send an email to Office@levpres.org
You can listen here to our Saint Patrick's Day Post!
See how people around the world are choosing life-affirming ways of supporting each other here
If you have needs for food, transportation, etc. contact us at Office@levpres.org
If you are interested in helping other people including participating in our soup kitchen on Saturday March 28th, contact us at Office@levpres.org
---
Update 3/13/2020
There will be no services at our church this Sunday, March 15th. Rather than gathering this Sunday for worship in our sanctuary, we will worship together on-line. Can you join us any time Sunday by clicking here.
In the meantime, our Pastor's letter on living in uncertain times can be
read here.
If you are interested in the reasons behind choosing to go on-line for worship, you can read our post here

You can get accurate medical information at www.cdc.org or by calling
THE GREATER PHILADELPHIA CORONAVIRUS HELP LINE: 1-800-722-7112
---
Update 3/10/2020
We understand that the Flu Season and the recent developments with the coronavirus (COVID-19) raise concern for the physical well-being of our congregation. We want you to know we are taking precautionary measures to create a safe and healthy environment for us all to gather and worship.
During this season of health concern, we will observe the following:
Our Greeters and Ushers will greet you with smiles and waves but will refrain from shaking hands.
Each Sunday morning prior to each service, we will sanitize highly touched surfaces such as doors, handles, and tables
Hand Sanitizer will be available at the Sanctuary Help Desk and the Café.
Communion will be postponed this month, and we will re-evaluate on a monthly basis. At GateStreet we will not hold hands during the Benediction but we will pray for each other.
Offering plates will be located on the way out of church, so they don't need to be passed. Remember, you can also give online.
We recommend you greet each other with smiles and waves instead of handshakes.
Our building is cleaned on a regular basis, and our nursery toys are sanitized prior to each Sunday morning. Remember that the best way to protect yourself and others is to frequently wash your hands, and stay home if you or a family member is sick.
We recommend you seek accurate information about the Coronavirus directly from https://www.cdc.gov/
You can get the latest update and status for our church at www.levpres.org
We hope knowing that we are taking some extra precaution helps you feel more comfortable coming to worship Jesus with us! Please join us in praying for God's healing for those who are afflicted throughout the world, and for our immediate community in the weeks to come.
Prayerfully in Christ,
Pastor Langdon Palmer and the Session