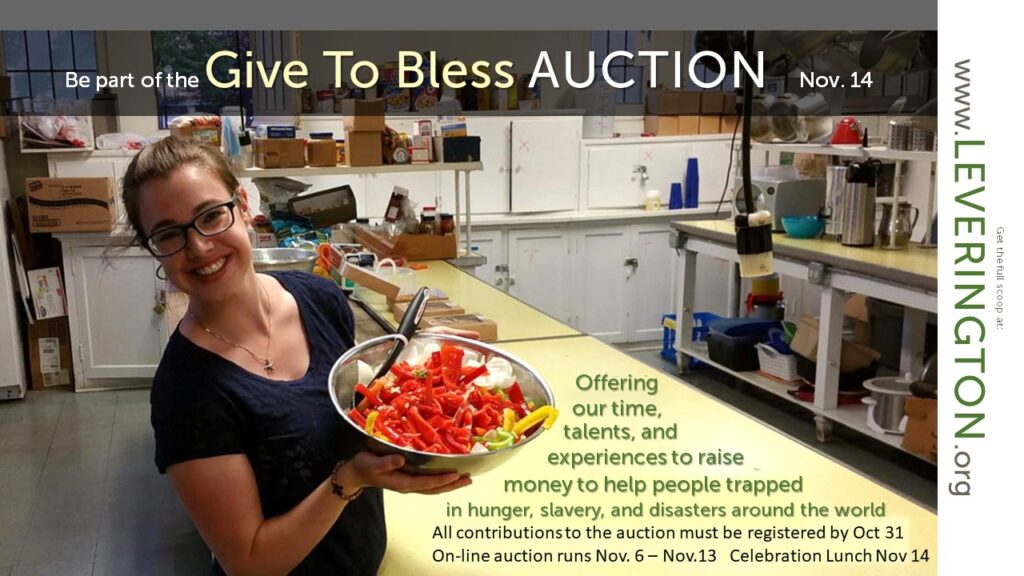 Be part of the revolution 🙂
Be part of the "Give to Bless" Auction!
Offer your skills, resources and favorite things to do…
and then watch the world be blessed because of you!
How it works:

1. Embrace the Need
There are so many people suffering real tragedies around the world today – it can make us feel helpless, yet we are coming together as a church to make a real difference for them. Jesus told us in Matthew 25:34-40 that Christians are to come together and meet the basic needs of others. You can see the details of where all money raised will go at www.Leverington.org

2. Think of something you could offer
that other people would love to buy. You have more to offer than you realize! What experience or talent could you share with someone else? Here are a few examples just to get you started: "3 hours of baby sitting", "an Authentic Indian Meal", "a book reading for children", "A week at our Shore House", "A painting lesson", "2 hours of house cleaning", "A snowboarding lesson", "Frozen homemade meals delivered to your door", "a romantic candlelight dinner for two on the deck", "I will go shopping for you", "Shovel your snow", "I'll teach you how to change your oil ", "A day in the woods making Maple Syrup", "A singing telegram", "I will flamingo the house of a person of your choice." Gift certificates and gift baskets also welcome!

3. Register your donation


4. Participate in the on-line auction November 7th – 13th
where people bid for what you are offering (and we hope you will bid on some things too!) Don't have internet access? Just call the church office 215-482-0293 and we will get you a paper list and help you bid. We are hoping that you will not only offer an item, but that you will also purchase one or two items to support others efforts and raise the pot of money we will donate.
4. Join us for the Auction Celebration Lunch November 14th!
Right after church on Sunday November 14th we will have lunch in Westminster Hall for all buyers and sellers – where we will celebrate everyone who participated, tell you the results, and pray for the ministries that will be blessed by your efforts. If you offered your time or an experience, we will get you connected to the winner of your offering. If you won an auction item you will either receive the item that day or a certificate with instructions on how to get it.


We need all offerings registered by October 31st, so please fill out this form today!