Ken Shigematsu argues "What ever we do repeatedly, (even if it is simple),
has the power to shape us." Much the way a grape vine can be trained on a trellis, our habits train us into a certain shape. This fall we are going to look at ancient spiritual disciplines that can shape and train us into the people God intended us to be. Today Pastor Langdon shares lessons from his vineyard that can teach us how we can grow and flourish in God's vineyard. And we look at how practice and a "long obedience in the same direction" is exactly what makes great artists, athletes, and spiritual warriors. You can see the video of Yo-Yo Ma that was shared in the sermon at https://www.youtube.com/watch?v=1prweT95Mo0
Ken Shigematsu argues "What ever we do repeatedly, (even if it is simple),
has the power to shape us." Much the way a grape vine can be trained on a trellis, our habits train us into a certain shape. This fall we are going to look at ancient spiritual disciplines that can shape and train us into the people God intended us to be. Today Pastor Langdon shares lessons from his own vineyard that can teach us how we can grow and flourish in God's vineyard. And we look at how practice and a "long obedience in the same direction" is exactly what makes great artists, athletes, and spiritual warriors. You can see the video of Yo-Yo Ma that was shared during the sermon at https://www.youtube.com/watch?v=1prweT95Mo0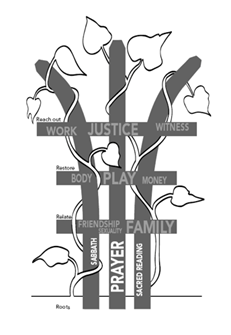 This image is from Ken Shigematusu's book "God in my Everything."
To order the book or see other resources, go to http://levpres.org/god-in-my-everything/
DANIEL 6:10
Now when Daniel learned that the decree had been published, he went home to his upstairs room where the windows opened toward Jerusalem. Three times a day he got down on his knees and prayed, giving thanks to his God, just as he had done before.
Hebrews 12:11-13
No discipline seems pleasant at the time, but painful. Later on, however, it produces a harvest of righteousness and peace for those who have been trained by it. Therefore, strengthen your feeble arms and weak knees. "Make level paths for your feet," so that the lame may not be disabled, but rather healed
Titus 4:7-8
"Train yourself to be godly. For physical training is of some value, but godliness has value for all things…for this we labor and strive…"
"Take my yoke upon you and learn from me, for I am gentle and humble in heart, and you will find rest for your souls.
For my yoke is easy and my burden is light." – Jesus
Psalm 119:32 I run in the path of your commands, for you have set my heart free.
Are you willing to build a
"Rule for Life"
a trellis of habits
for growth
that fits your unique personality ?