You can give a Christmas present to one of the world's poorest children.  You can pick up and return shoeboxes on Friday November 20 and Saturday November 21 between 11am and 1pm. You can also bring our items and pack your box at the church.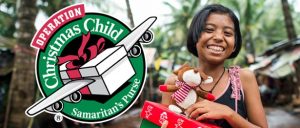 It's shoebox time!
A small shoebox can have a big impact. What goes into the box is fun, but what comes out of it is eternal. Be a part of changing children's lives all over the world in Jesus' name through the power of a simple gift with Operation Christmas Child.
Now is the time to start packing shoebox gifts for children in need! Click here for ideas of what to pack in your shoebox.
What is Operation Christmas Child?
Operation Christmas Child is a project of Samaritan's Purse, an international relief organization. Our mission is to provide local partners around the world with shoeboxes filled with small toys, hygiene items, and school supplies as a means of reaching out to children in their own communities with the Good News of Jesus Christ. We ship these simple gifts outside the United States to children affected by war, poverty, natural disaster, famine, and disease; and to children living on Native American reservations in the U.S.
Contact Lora Gery (Lora@levpres.org or 215-482-0293) with questions.
How to Pack a Shoebox
[/vc_column_text][/vc_column][/vc_row]